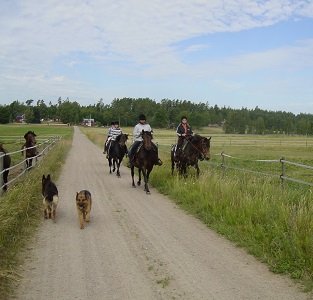 The Skaraborg region of Sweden offers everything from all kinds of sporting activities, a rich and interesting history, quaint villages, a pleasant rolling landscape, active farming communities and friendly people. Whatever your sport, hobby or interest, chances are you will be able to pursue it here.
Below you'll find some suggestions, but it is by no means a complete list of activities. Under "Links" you'll find more information and suggestions on various things to do while vacationing in beautiful Västra Götaland.
Horseback riding:
The riding or driving is fantastic on hundreds of miles of logging roads in extraordinary natural beauty, or in our indoor riding arena. We give riding lessons to adults and children, novices as well as more ( or less ) experienced riders. Our focus is on providing a positive, fun and safe riding experience.
The unique 120 km Tidaholm Riding Trail passes close by the farm, and this is a great location to start the exciting trail that loops around the city of Tidaholm.
Beaches and swimming:
There is a great family beach 10 minutes from the farm complete with diving boards, raft etc, see photos below. Plenty of parking, plenty of space, see photos below. There are several other lakes with beaches close by as well as great lakes by lake Vättern. There are also outdoor and indoor pools and aqua parks.
Fishing:
We're located close to the Høkensåsen Natural Reserve, one of Sweden's best fishing areas. Approx. 40 lakes with abundant fishing. You can even rent a lake for a day! Flyfishing courses are provided, and family fishing encouraged. You can also flyfish in river Tidan in the city of Tidaholm.
Sweden's second biggest lake, Vätteren, is close by, and it offers exciting fishing opportunities as well. It is only a short drive to lake Vänern, one of Europes biggest lakes, that offers great fishing opportunities as well. Rent a trolling boat or fish from the shore. The farm is about 10 minutes from the fishing lakes as well as from the river fishing in Tidan. Below are photos from lake fly fishing.
Explore the wildlife on Hökensås:
Explore and enjoy wildlife just outside your doorstep. On Hökensås you might see moose, lynx, deer, foxes, badgers, beavers plus the occasional bear and wolf. The birdlife is very varied with owls, grouse, hawks, ospreys, golden eagle plus a variety of smaller birds. Plenty of insects, reptiles, butterflies and plant life to look at.
Access is legal as long as you observe a few sensible limits on what you cannot do such as having a campfire in the dry season etc.
Hiking and Biking:
The region offers great opportunities for peaceful and safe biking and hiking, either along quiet country roads, quaint small towns or along tracks or logging roads that crisscrosses the big woods and rolling fields.
Other sports activities: You name them, we got them!
Golf:
Twenty plus excellent golf courses within an hours drive from the farm.
Canoing :
Rent a canoe and paddle on idyllic lakes and rivers.
Shopping:
Enjoy small antique stores or attend a colorful auction or fleamarket. Great shopping in cities like Skövde, Jönköping and Gothenburg.
Eating:
There are a variety of resturants, cafees, bakeries, fish smokeries etc. throughout the region. There are strict regulations for serving food, so expect clean resturants with great food. Children are wellcome everywhere. We serve delicious food made in our woodfired oven if you want to enjoy great food on your own deck or in the garden.
Activities for kids and families:
Skara Sommarland aqua and amusement park is popular as well as the classic amusement park Liseberg in Gothenburg. There are also things like petting zoos, heated pools, childrens activity houses, a stone age village etc. to choose from.
A popular activity is berry and mushroom picking. Bring a picknic and enjoy a peaceful day out in the nature.
Other activities:
Check with the local tourist offices or locals you meet. There are numerous events, concerts, festivals, plays, tournaments etc. taking place all the time during the year. Please feel free to ask us for help if you have problems finding what you are looking for. We have guests with diverse interests ranging from car racing, plane spotting, bird watching, moose watching, visiting various medieval churches, hunting etc. so we'd love to try to help you make the most of your stay as well.
Skaraborg has an ancient cultural heritage ranging from rock carvings and stone settings, to old churches and cathedrals as well as castles and mansions.
This is the cradle of Sweden and where the country of Sweden was formed.
.
Visit some of the many interesting museums, or stroll through historical districts and buildings. See Läckö Castle, Skara cathedral, Varnhem monastery, Karlsborg fort. See Göta Canal , the inland waterway linking Gothenburgh and Stockholm. The canal goes through small towns and is linked by Swedens two largest lakes,. both situated here,and it has numerouswaterlocks. Enjoy the hustle and bustle from land or go on a day cruice on the old canalboats. Tou can take a daytrip on the old steamers..
There are plenty of rivers and smaller lakes, and lots of family beaches to enjoy. Skaraborg is very family friendly and children are welcome anywhere. Popular with families is Skara Sommarland aquapark, Ekehagen stone age park and Tidaholm petting zoo. Another popular activity is strawberry picking when in season on the many local strawberry farms as well as picking wild berries and mushrooms in the woods. Hökensås Fishing i sa popular destination with great fishing for beginners as well as advanced fishermen in 40 lakes. Buy a fishing license and enjoy trout fishing in the river in Tidaholm city centre.There are cafees and restaurants along the river Tidan that runs through the city and it is a very scenic and relaxing place to enjoy.
Visit lakeside cities like Hjo, Jönköping, Karlsborg, Mariestad and enjoy the maritime touch or visit other ancient cities like Skara with its cathedral and old buildings. In Hjo you can join the old steamship for a scenic ride to Visingsö, an island in Lake Vättern.
If you like classic cars, particularly US muscle cars, you've come to the right place. Don't miss the spring and fall cruising when Tidaholm is invaded by hundreds of Detroit's finest
Tidaholm has a rich history of producing horse carriages and later trucks and cars as well as matches and there are interesting museums with both cars and graphic art, the latter originating in matchbox design.
It takes only10 minutes to drive to Tidaholm from the farm and here tyou can do your grocery shopping 7 days a week from 8 am to 10 pm.
This region is great for horselovers as there are horses virtually anywhere and lots of shows and competitions.
The rich farmland is teeming with cattle and it is very peaceful to explore the many small roads of the region.
You can find comprehensive and updated information from the local Tourist Offices located in each city.