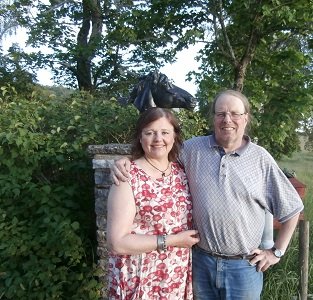 Velkommen!
Aplagården is a Guest Farm for tourists looking for a relaxing country weekend get-away or vacation on a scenic farm located in the beautiful region Västra Götaland in Sweden. We're easy to get to being located in central Sweden between Gothenburg and Stockholm, close to Tidaholm, Skövde and Jönköping. Aplagården is nestled at the gentle slopes of the moraine ridge Hökensås that streches for miles offering hundreds of miles of trails and lumber roads. Ideal for skiing in the winter and hiking, biking and riding in the warmer seasons.
We're located between Sweden's two largest lakes, and there are lots of smaller lakes and rivers for bathing, canoing or fishing.
On Aplagården we breed American Morgan horses in addition to producing organic hay and running a guest farm for visitors that want to enjoy our beautiful part of the world. We have a shop selling "green" heating appliances such as stoves, fireplaces, pizza ovens etc.
The houses are located 600 meters from from a quiet country road and with 40 hectares there is plenty of space. The farm is bordering the Aplagårdsskogen natural reserve so there is a short walk from the garden to the wild woods that offer ample opportunity to spotting wildlife, birdwatching or picking berries and mushrooms. Great for offroad or onroad walks and contemplation under the majestic oaktrees.
Most of our guests are families or couples who come to relax, either with riding, fishing, golfing, moose-watching, bird watching, canoing in beautiful river Tidan etc., or just to do some sightseeing in this old and cultural part of Sweden. Relax with a good book or take a nap under the old apple trees or play a lawn game with the family. Enjoy barbecuing and eating your meals outside.
Our guests stay in the farm annex and enjoy the good life on Aplagården. Find out more by clicking on the appropriate tabs on the start page.
We usually expect foals during the summer, and haying will be in early July or when the weather permits.
We cook and serve succulent meals based on locally grown ecological ingredients in an outdoor Valoriani woodfired oven. We import and sell these ovens that are handmade in Tuscany. Enjoy a meal by yourselves, or with us or other guests.
We hope you will find our web page interesting, and that you will decide to visit us on your vacation or for weekends or special occasions.. Aplagården has plenty of space for various activities and is teeming with animals making it ideal for families as well as couples.
Although this web page is in English only so far, we do speak the Scandinavian languages as well. Eva is Swedish and Eivind is Norwegian. We areopen year round.
Welcome to Aplagården in 2021 / 22!
Eva and Eivind Fogth Lindqvist